Nomination Galjaard Prize 2020: participation process in Súdwest-Fryslân
Nomination Galjaard Prize 2020: participation process in Súdwest-Fryslân
Súdwest-Fryslân wants to make its energy use more sustainable. The municipality engaged us to find out what its citizens think is important in the energy transition. We designed our consultation with 40-50 citizens. Normally we design with professionals, so this was also new for us! The participation process and our scientific method were successful. It was nominated for the Galjaard Prize!
What did we research?
What values are important to residents when forming energy policies? Do they value self-determination, landscape preservation or cooperation more? With this focus, we were able to find out what residents considered important during and after the energy transition. This allowed the municipality to create a plan that better met the needs of its residents.
Who participated in the research?
The consultation was done in combination with a citizen forum. The independent organization NPBO guided the entire participation process. Through our consultation 1376 residents gave their substantiated opinion. With the results the citizens' forum itself gave a concrete advice to the municipality.
Shortlisted for the Galjaard Prize
The project 'The energy transition as a joint decision of municipality and Mienskip' was nominated for the Galjaard Prize 2020. This prize is awarded every year to an initiative in the field of public communication. The initiative has to be inspiring for colleagues in the field, innovative in its approach and have an impact in terms of results.
Scientific article about this research
A scientific article has been written about this research. Anatol Itten and Niek Mouter wrote about the power of combining our PWE method with a citizen consultation. Furthermore, the publication reflects on the strengths and weaknesses of online civic participation and offline civic participation. Read the article.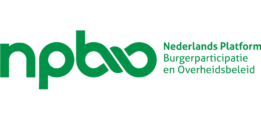 "Not everyone has the financial means to arrange something for themselves, even if they would want to."
–
Participant of 'the municipality takes the lead and takes care of it'
"I find autonomy very important. That is why I chose 70% 'do it myself' and 30% 'the municipality takes the lead and takes care of it. Via the elections I can somewhat influence this."
–
Participant of 'the municipality takes the lead and takes care of it'
"Detaching from the consulting world. The experts can be found within the society."
–
Erik Faber,
Alderman of Sustainability in Súdwest-Fryslân
Questions?
Please contact us.
We are happy to provide information, give a presentation about a (finished) project and our PVE method. And are happy to think along with your question or the topic of your participation course.