Online participation tools: Which changes are going to make the right impact? Find out with a DCE
Online participation tools: Which changes are going to make the right impact? Find out with a DCE
Currently, we use most raw materials and products only once. To deal more sustainably with the limited amount of raw materials and products, circular business models are needed. For example, we can make more use of recycled or second-hand products. But which forms of circular business models appeal more or less to people? We investigated this for the Directorate-General for Public Works and Water Managementand and the Ministry of Infrastructure and Water Management.
A discrete choice experiment as an online participation tool. How does it work?
For this study, we used discrete choice experiments (DCEs). In a DCE, participants make choices between two options that differ on a number of characteristics. This gives us detailed insights into how different characteristics influence participants' choices. For this study, for example, we looked at price, payment method, and terms of use.
What does a DCE look like?
Below is an example of what a DCE choice task might look like (in Dutch).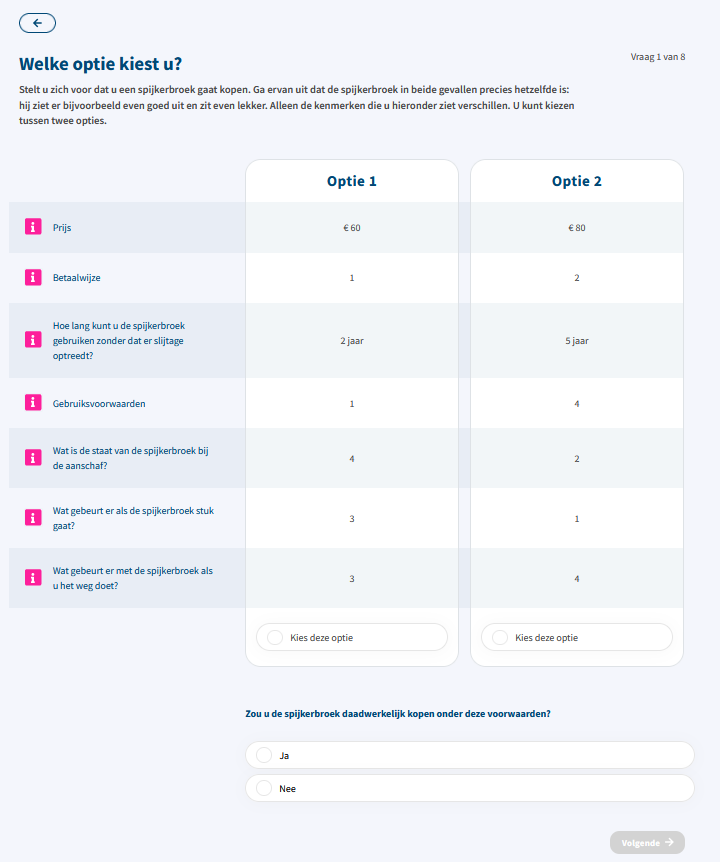 What results do you get with a DCE?
After using this DCE as an online participation tool, we got the following results:
New products are seen by most people as having a higher quality than circularly produced products.
It is also important that the consequences of a non-circular economy are clear to the buyer.
Many items are thrown away and burned after use. Only if people are aware of this can it help to encourage reuse.